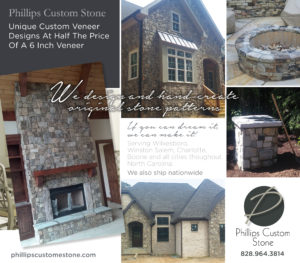 Phillip's Custom Stone produces some of North Carolina's most inspiring natural stone veneer patterns.
The North Carolina mountains are well known for their beautiful natural stones. Today one of the most unique and long lasting investments you can do for your home is to accent it with natural veneer stones and rocks. Through years of building quality luxury homes and working with natural stones in Boone, North Carolina Johnny Phillips has developed a unique method of cutting and shaping large stones into thinner veneers. Each stone is hand-cut and shaped into custom patterns which they have created over many years. This process not only guarantees your home will be unique, providing many years of enjoyment, but also reduces your costs.
Here is what separates Phillip's Custom Stone from other companies and truly makes their Wilkesboro, NC company unique. Four years ago they began to make their own patterns of stone using a hydraulic stone breaker and diamond saws. Their stone is around one inch thick. They design each pattern to look like the heavy six inch stone that they have laid for many years in the mountains of North Carolina. Johnny Phillips and his team custom-cut a pattern of stone you'll love and what you would expect from a true Stone Artisan. Because each stone is thinner than a 6 inch stone it cuts your installation time and costs in half, plus there is no need for additional base
structures. Their veneer stonework provides a lifetime of enjoyment.
Phillips Custom Stone serves most of North Carolina including: Winston Salem NC, Hickory NC, Charlotte NC, Wilkesboro NC, Boone NC, Blowing Rock NC, Statesville NC, Greensboro NC, Morganton NC, Linville Falls and Taylorsvillle – Plus they deliver custom stone nationwide.  Give them a call and see how they can help you create the home of your dreams 828.964.3814